Alicante Wedding Venues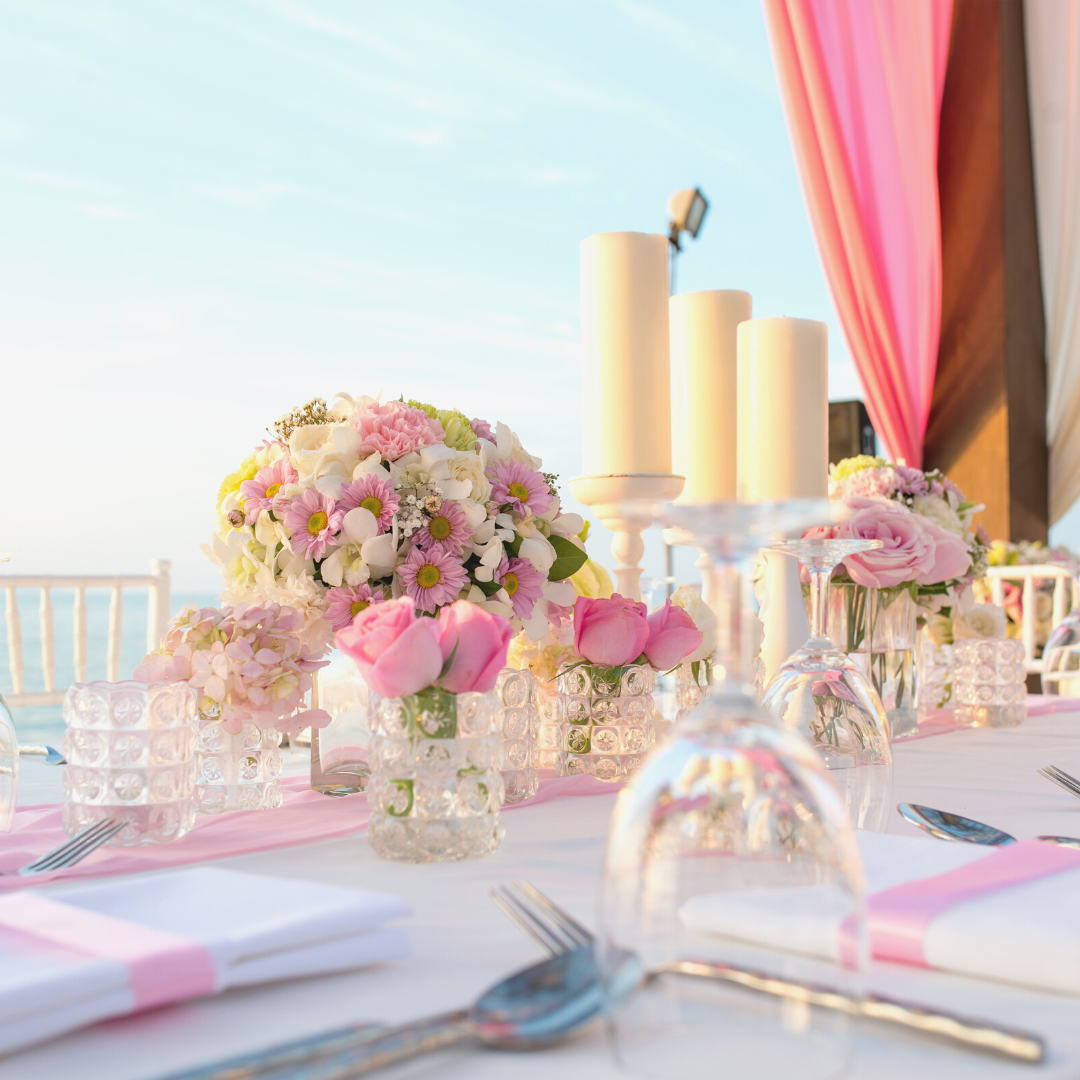 Alicante is a beautiful port city on Spain's southeastern Costa Blanca – it makes a perfect destination for an outdoor wedding. Alicante is known for its unique climate, delicious food and pretty monuments. It tends to have mild winters, hot summers, sunshine, and relatively little rain. 
Alicante Wedding Venues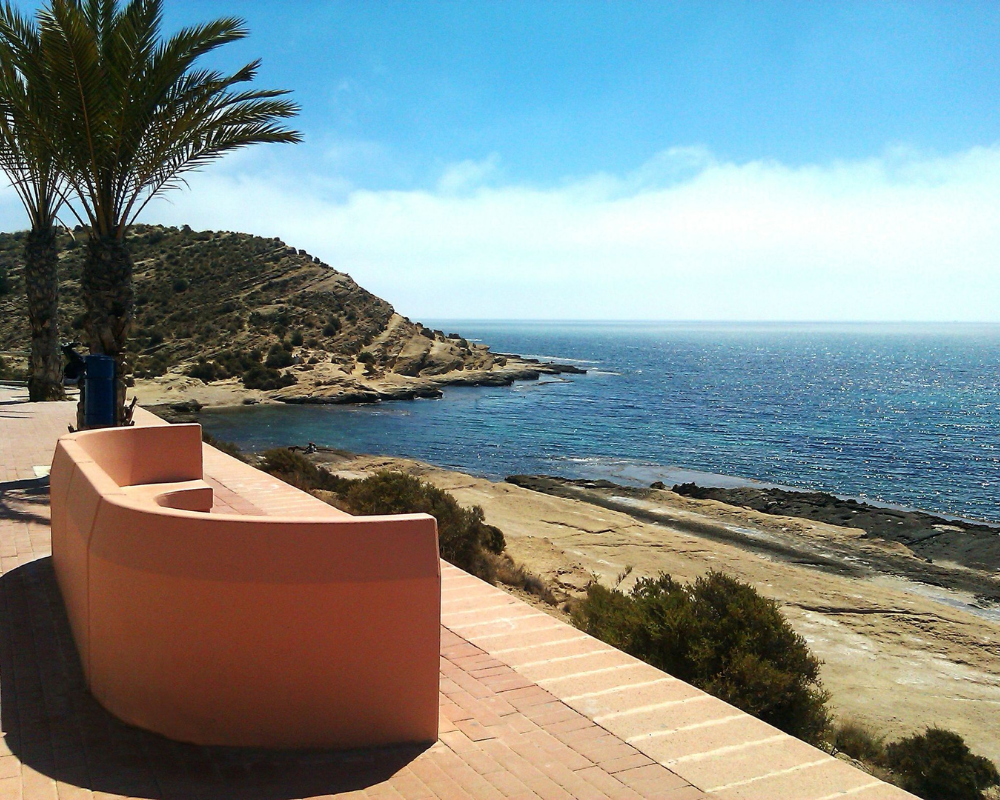 If you are looking for an awesome venue in Alicante for outdoor ceremonies or beach weddings, you have come to the right place. There are plenty of Alicante wedding venues, all of which have stunning scenery in beautiful locations. Here are just a few of our favourite Alicante wedding destinations. 
The Beach House Javea 
Muelle pesquero, 1, Javea, Alicante
The Beach House is a seafront boutique accommodation, bistro and rooftop bar located in the Port of Javea. This intimate boutique seafront wedding venue has endless views of the ocean and a chilled ambience. You can choose to celebrate your wedding day on the rooftop, right from the ceremony to the party and everything in between. You could also opt for the exclusive use of the whole beach house; the ceremony and cocktail are celebrated on the rooftop, downstairs in the beach club restaurant for a formal sit-down meal, and then finishing upstairs for the party. 
Please visit their website for further details. 
Oceana Club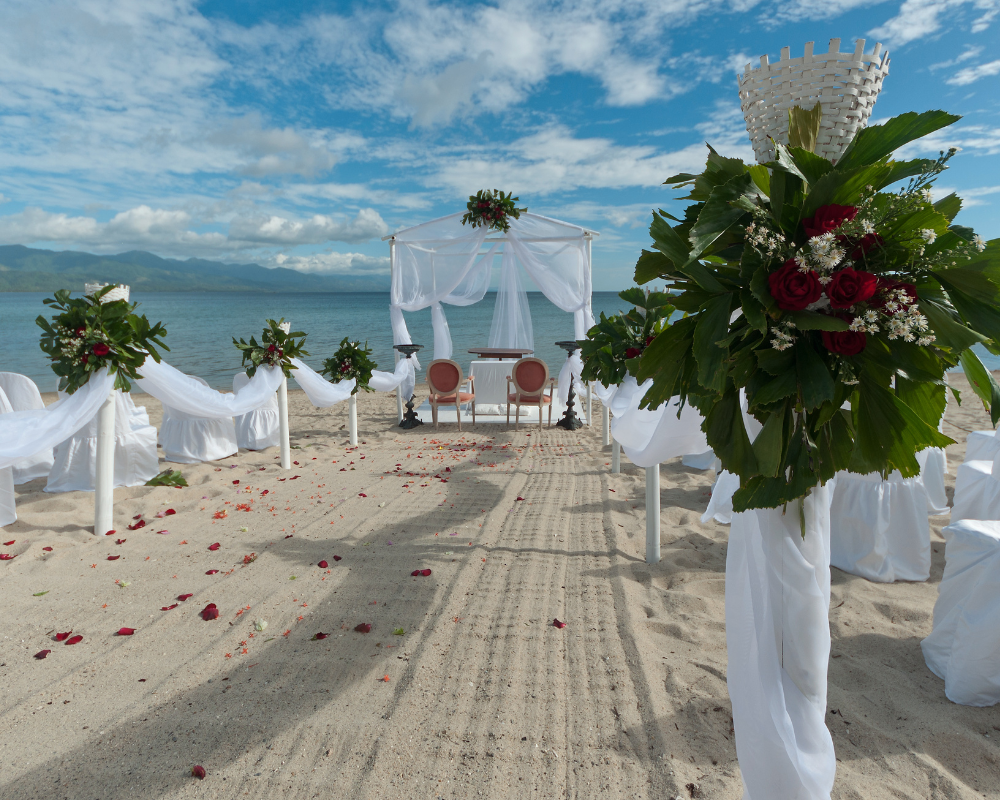 https://www.oceanacostablanca.com/
Avenida La Marina n°333, les Basetes, Benissa
Hidden amongst the boats, palm trees, and tiny cove sits the Marina Les Besettes. The Marina has been there for over 50 years, you can walk to it via the stunning coastal paths, or you can drive down or, of course, arrive in style by boat and surprise all your guests. Once there, you will find one of the best award-winning restaurants/ cocktail lounges and exclusive and unique wedding venues in Alicante. Oceana Club is the perfect venue for weddings and other events, with stunning views and exceptional food. Live music can also be arranged for a day of celebration, followed by music and dancing. 
Please visit their website for further details.
La Finca Resort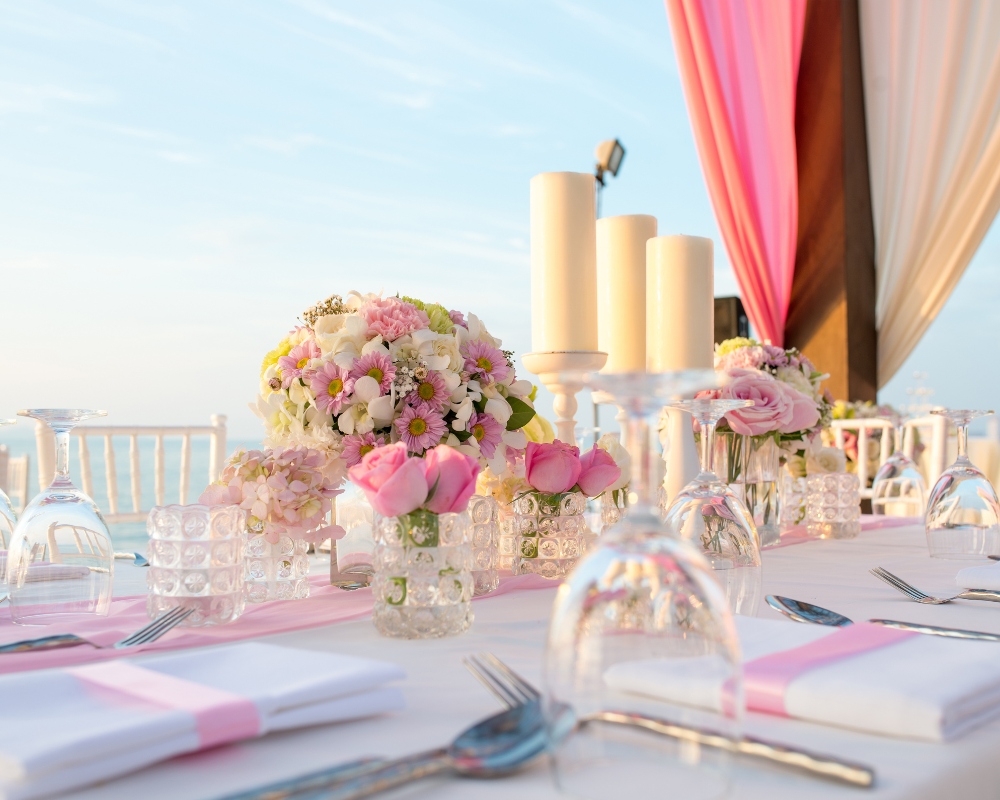 https://www.lafincaresort.com/en
C. Dolores, 1, 03169 Algorfa, Alicante, Spain
La Finca Resort is a paradise in Costa Blanca with two golf courses, a five-star hotel with a spa, sporting facilities and several restaurants. The resort includes various indoor and outdoor spaces so that you can choose the best one to suit your needs. For your wedding day, you can choose from a wide range of personalised menus, cocktails and indoor or outdoor banquets, entertainment activities and any other service you desire. 
Please visit their website for further details. 
La Torreta de Bayona 
http://www.fincalatorretadebayona.es/
Pujada Borratxina, 45, 03110 Mutxamel, Alicante, Spain
Finca La Torreta de Bayona is a farm ideal for any celebration, from family celebrations such as weddings, baptisms or communions. Just 10 minutes from Alicante, in the municipality of Mutxamel, the farm has an extensive garden surrounded by pine forests. Their conservatory faces a lake. They have a beautiful open-air chapel, and after the wedding, you can have beautiful photos by the lake with its jetty and waterfalls or through their spectacular gardens. 
Please visit their website for further details
Finca Mari Ana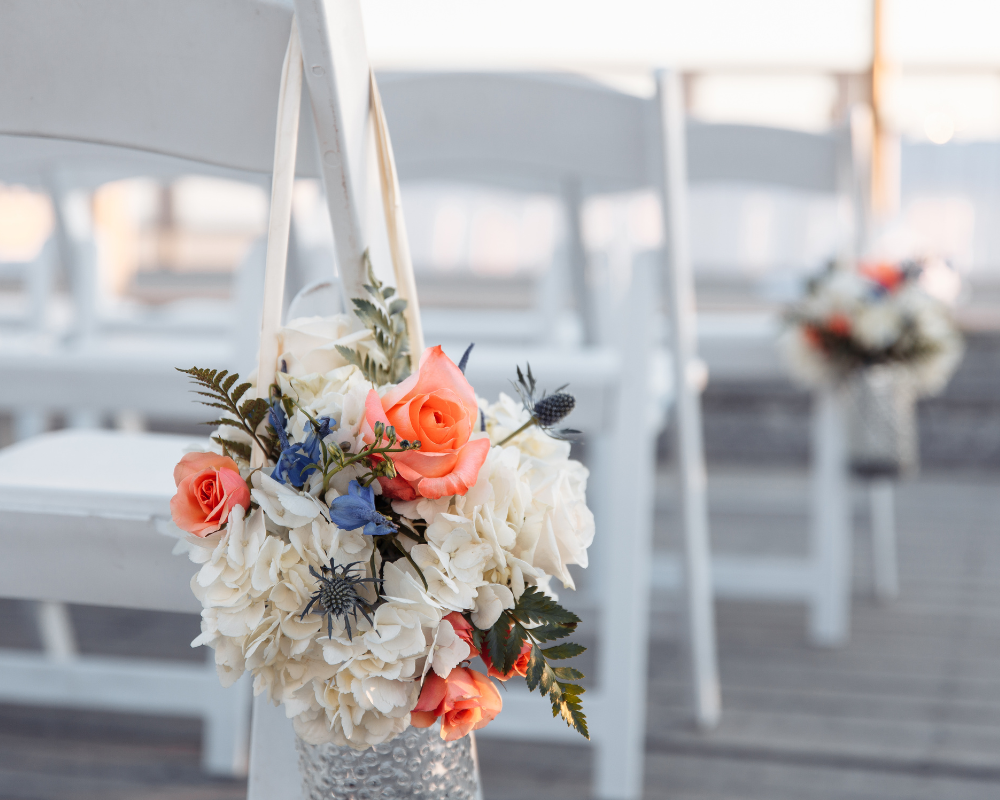 Ctra. Alicante-Murcia, 03202 Elche, Alicante, Spain
Villa María Ana is a typical rural estate from the end of the 19th century. The Finca, which has an area of 40,000 m2, is presided over by an old 19th-century mansion typical of the Alicante ancestral bourgeoisie and has been governed by impressive gardens, with a wide variety of plants, ponds and fountains that make the environment an ideal place to celebrate any event. 
Please visit their website for further details. 
Hotel Boutique Hort De Nal Elche Centro 
Avinguda de Candalix, 27, BAJO, 03202 Elche, Alicante, Spain
Surrounded by the historic palm grove of Elche and in the heart of the city, Hort de Nal not only has a beautiful garden with several different spaces where you can hold your wedding in different areas of the property, they also have a beautiful indoor lounge which is fully conditioned, overlooking the pool. Rain or shine, you and your guests will have a beautiful wedding day surrounded by orange trees.
Please visit their website for further details.
El Parador Del Mar Menor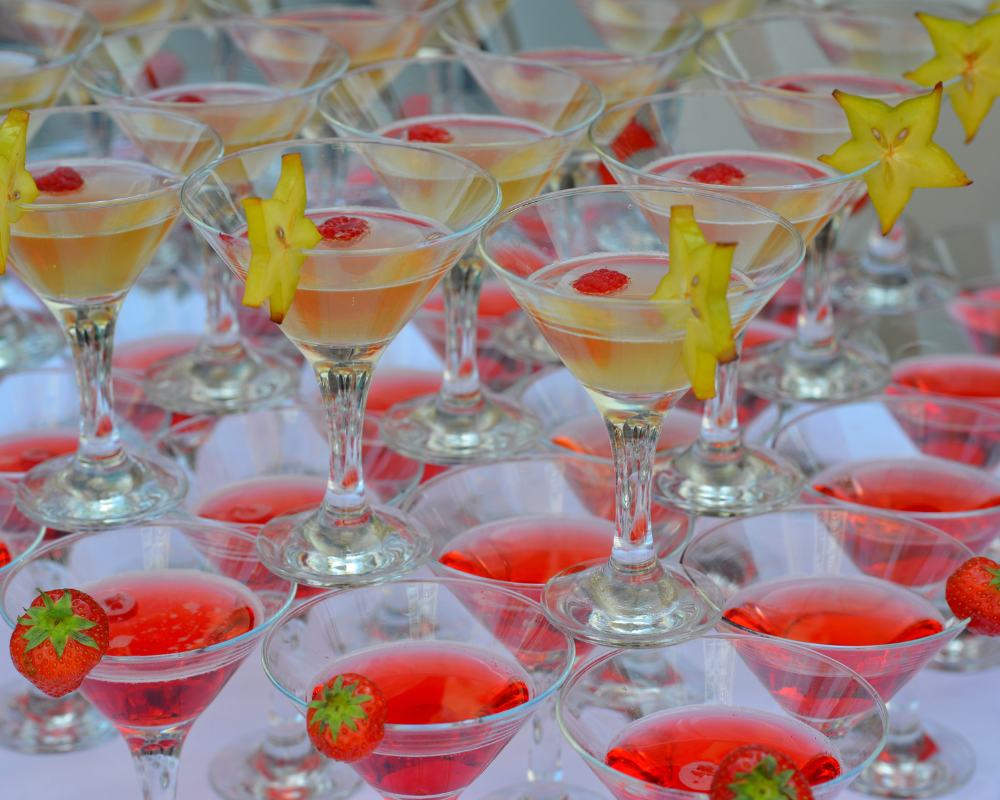 Playa El Vivero, 55, 30380 La Manga, Murcia, Spain
At El Parador del Mar Menor, you can celebrate your wedding day on the beach. There are different areas on the waterfront where you can hold any event. You can have lunch and dinner in the restaurant with stunning beach views. You can cool off while enjoying a cocktail and relaxing on one of the Balinese beds. This beach wedding venue in Spain is the perfect area to hold a civil ceremony on the seashore. 
Please visit their website for further details. 
Hotel Servigroup Montiboli 
Partida Montíboli, s/n, 03570 Villajoyosa, Alicante, Spain
Perched on a cliff facing the Mediterranean Sea, the Hotel Montiboli in Villajoyosa is between two beautiful coves with crystal-clear water. Enjoy a wedding on the beach and get married in paradise. You can celebrate the wedding of your dreams with the sea as a witness, the sky protecting your bond and the moon casting a silver glow on your special day. 
Please visit their website for further details. 
Cala Clémence del Portichol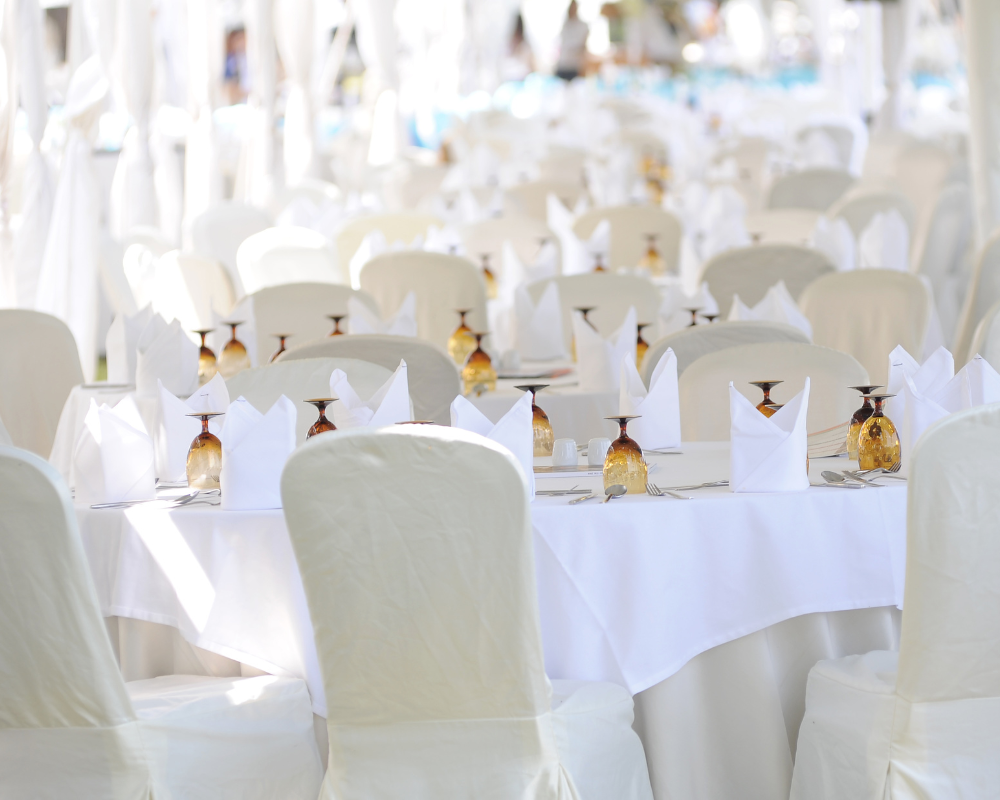 Carrer de la Barraca, 96, 03738 la Mar Blava, Alicante, Spain
Cala Clemence is located on the seafront in the most beautiful cove in the Mediterranean, Cala del Portixol. This beach is unique in the world for its natural and wild environment; its white pebbles, turquoise water and bohemian decoration will make you feel like you are in paradise. Frame your wedding day in the idyllic landscape of a charming cove surrounded by wild vegetation. 
Please visit their website for further details
Finca El Senyoret 
Av. de la Comunitat Valenciana, 74, 03502 Benidorm, Alicante, Spain
The El Senyoret farm is characterised by having one of the best-preserved farmhouses in Benidorm and the region, built-in 1880. The farmhouse celebrates various events: weddings and celebrations, company events, exhibitions, and photo sessions. The estate has different areas, whether an intimate or a large event. The coolest area of La Finca has a swimming pool and plenty of natural shade thanks to the leafy pine trees, which are ideal for holding a wedding reception. 
Please visit their website for further details
SH Villa Gadea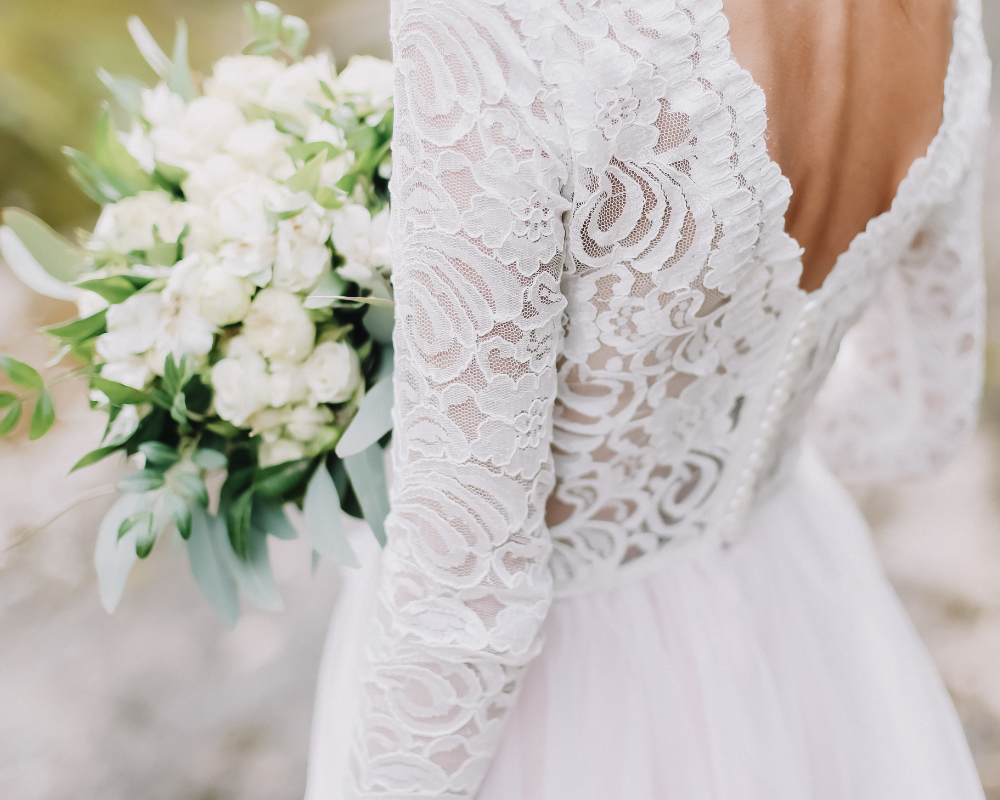 https://www.hotel-villa-gadea.com/en/
Partida Villa Gadea, s/n, 03599 Altea, Alicante, Spain
The SH Villa Gadea in Altea will give you an unforgettable experience by the sea. The hotel is ideal for escaping from the routine as you enjoy a truly special stay in a charming Mediterranean landscape. They can offer deluxe rooms, restaurants, events venues and a spa. If you are looking for a spectacular setting for your wedding or special event, their garden area is ideal, which has a balcony overlooking the Mediterranean Sea. 
Please visit their website for further details.