Awesome Wedding Venues in London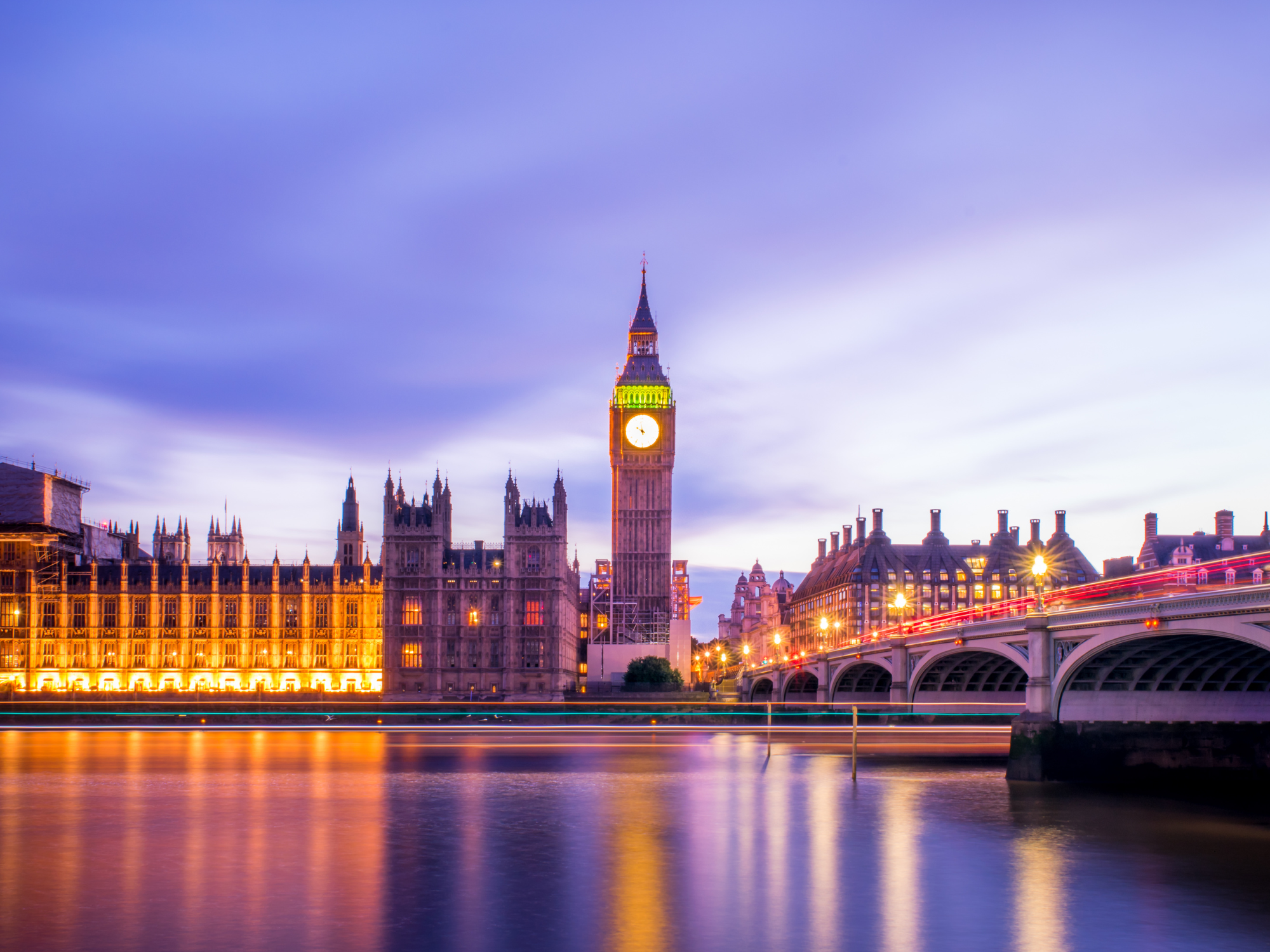 If you are looking for an awesome wedding venue in London, look no further! There is plenty to choose from, from museums and hotels to weddings in beautiful gardens. Hampshire has plenty of traditional and alternative wedding venues that will wow your guests on your special day.
Information about London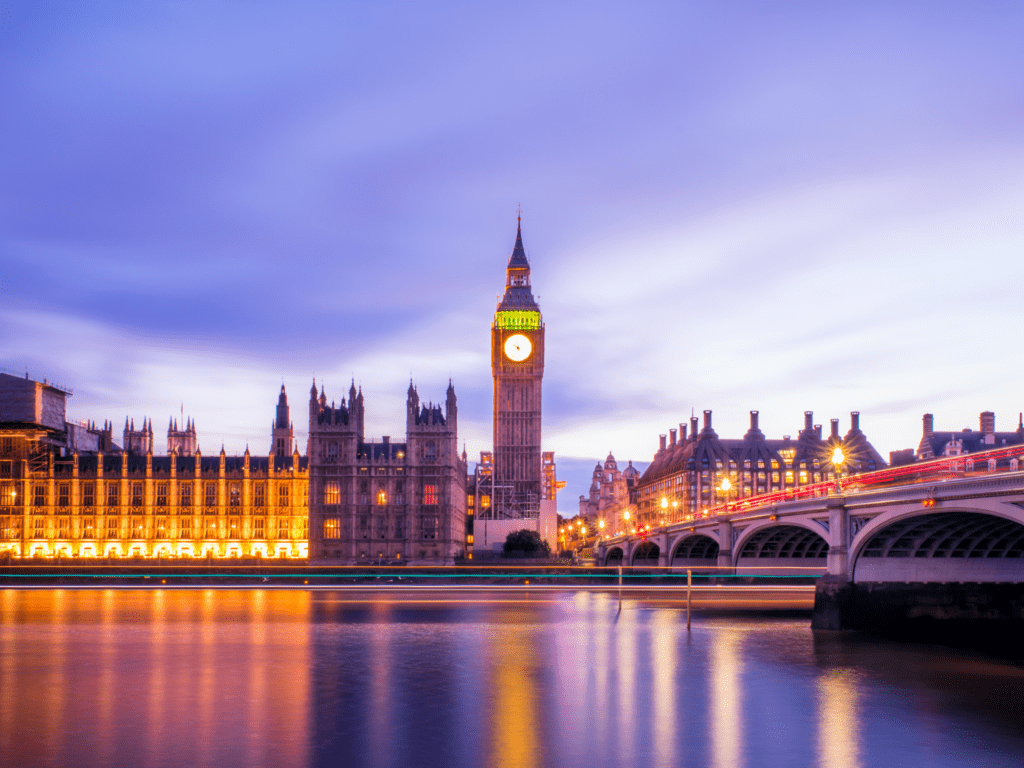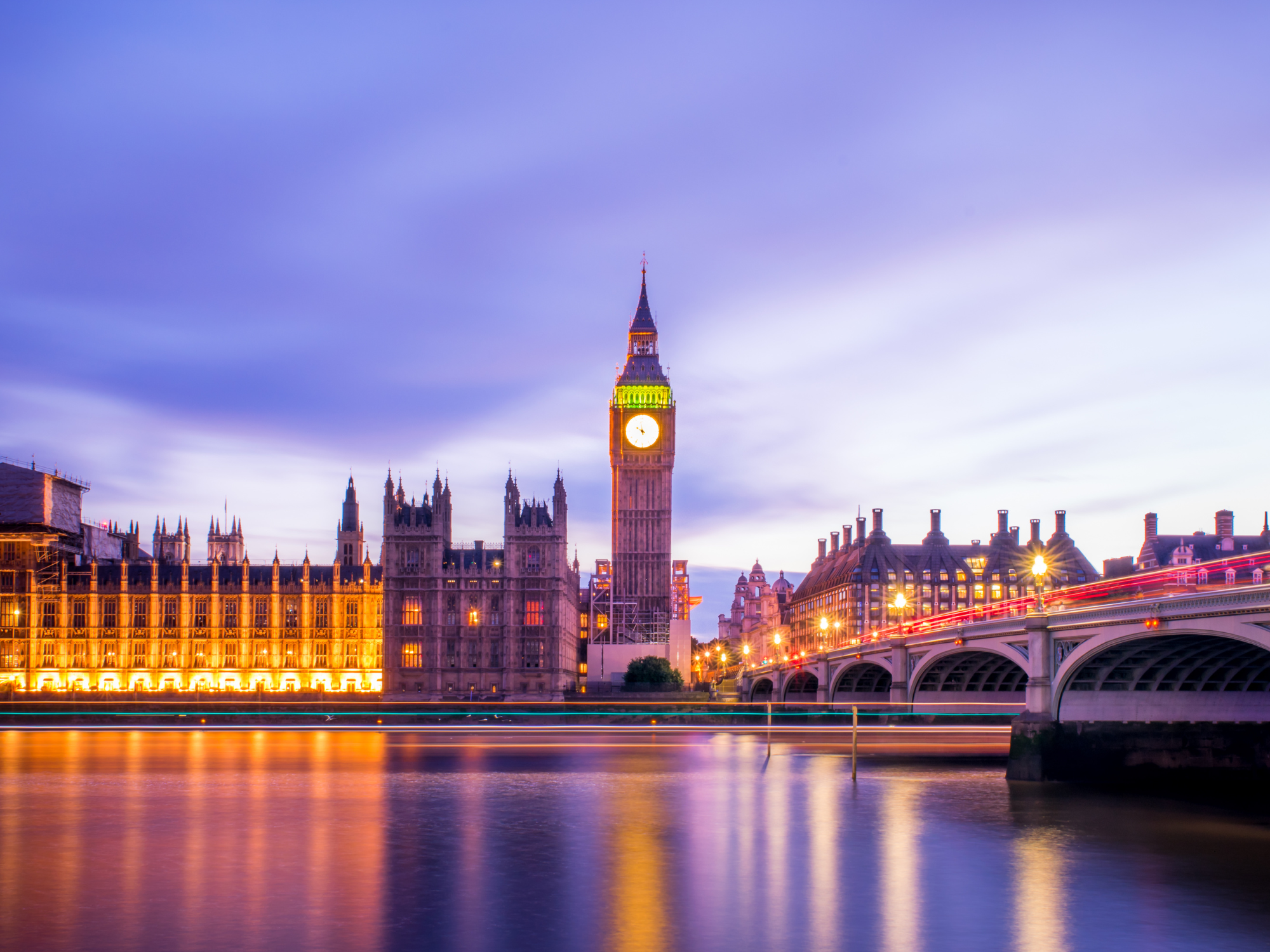 London is the capital city of England. London is famous for Big Ben, Buckingham Palace, museums, and bridges across the River Thames. London is also known for its double-decker buses, red phone booths, black cabs, art galleries, beautiful parks and, in general, its cultural diversity.
Below we have compiled a list of some fun and beautiful wedding venues in London. It is a stunning city to get married in, with plenty of variety, all with lovely scenery and interesting buildings. Read on for some London wedding inspiration.
Awesome Wedding Venues in London
Shangri-La Hotel at the Shard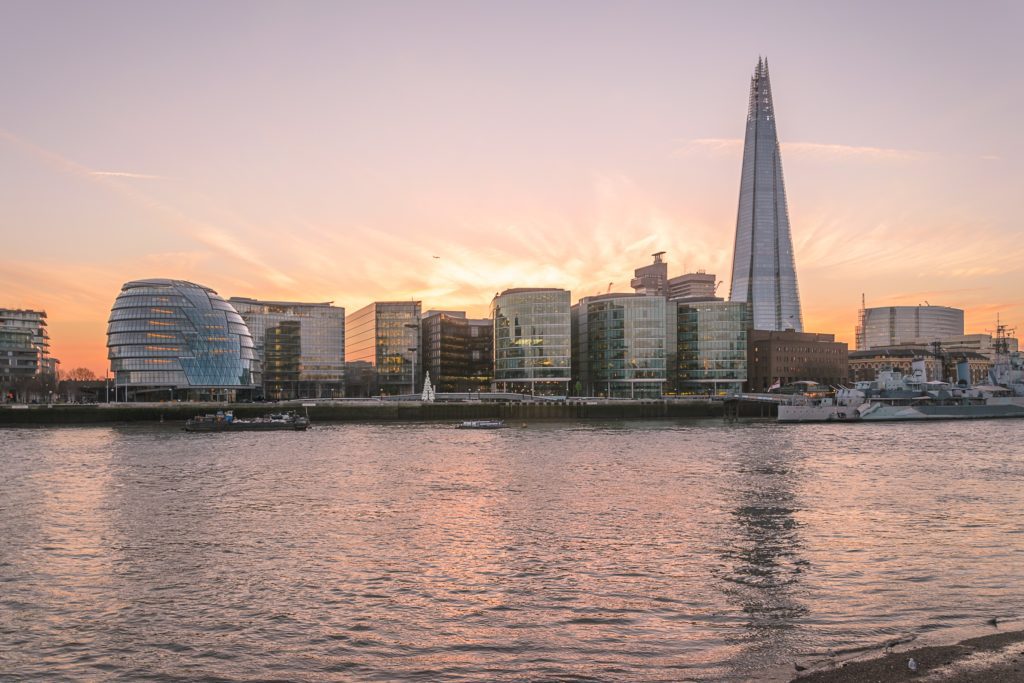 31 St Thomas St, London SE1 9QU
The Shangri-La at the Shard translates age-old rituals into modern expressions and brings them to life. From intimate civil ceremonies to receptions for up to 100 guests, celebrate your special day in the clouds with an enchanting backdrop of London. Choose from a unique event space or the intimacy of a luxurious room or suite overlooking the magical city below. Whether it's a romantic dinner in the sky or an unforgettable bespoke experience, their dedicated events team and partners will be on hand to make your dream proposal come to life.
For more information, visit:
https://www.shangri-la.com/london/shangrila/weddings-celebrations/
The Barbican Conservatory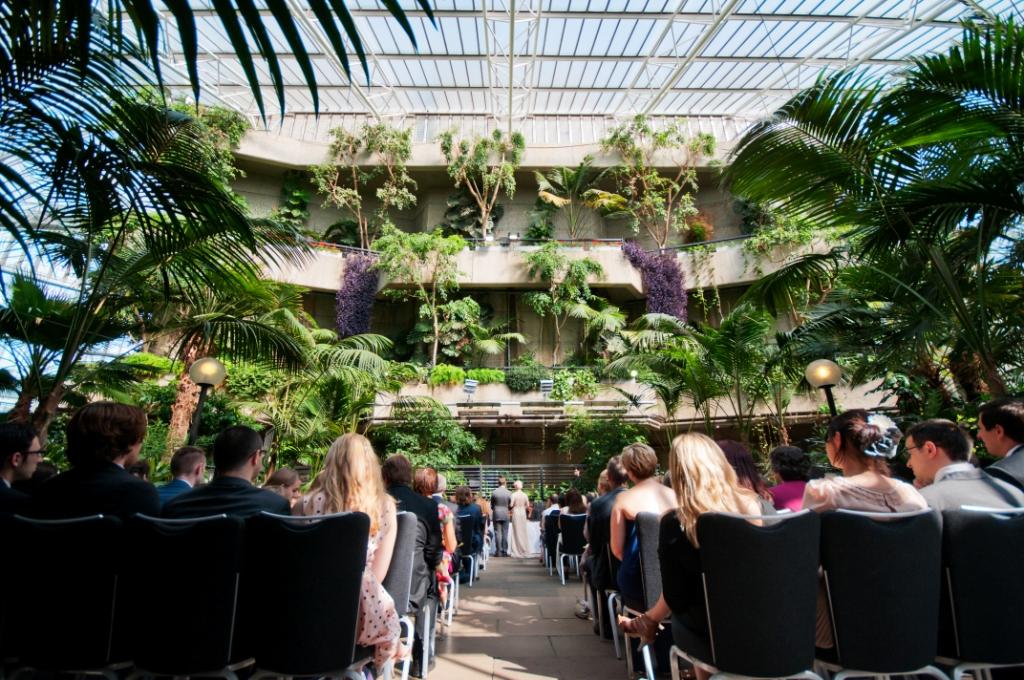 Silk St, London EC2Y 8DS
The Barbican Conservatory is one of the most unusual venues in London for weddings – a lush tropical oasis home to exotic fish and 1,800 species of tropical plants. They are licensed to host weddings and civil partnership ceremonies, and the Barbican Conservatory is the perfect place to host your special day. Once you have completed your wedding vows, have some photographs in the secluded couples' area. To complete the picture, the adjoining Garden Room can seat up to 220 guests for your wedding breakfast. This newly refurbished room has floor-to-ceiling windows showcasing fantastic city skyline views and a state-of-the-art lighting system to create the perfect atmosphere for post-dinner dancing.
For more information, visit:
https://www.barbican.org.uk/hire/venue-hire/weddings
The Ned
27 Poultry, London EC2R 8AJ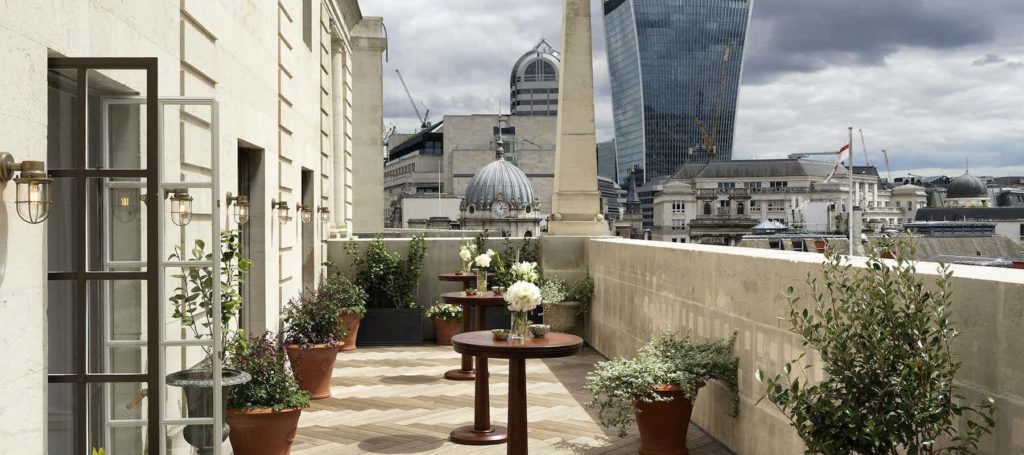 The Ned is fully-licensed for wedding ceremonies and offers six beautiful and restored indoor event spaces for varying guest capacities. Whether the cosy Rose Room or the expansive Tapestry Room, each event room will be perfect for your ceremony. Ned's Club Spa offers men's and women's services covering everything from hair styling, wet shaves, manicures, pedicures and hammam treatments. If you're unsure which room to book, they recommend you start your research with the Tapestry Room or The Saloon.
For more information, visit:
https://the-ned-weddings.venuecrew.com/
Kew Gardens

Richmond, TW9 3AF
Mark your special occasion surrounded by these botanic gardens at Kew or Wakehurst. These venues are designed to create an unforgettable experience, from enchanting gardens to iconic buildings. Exchange your vows in the Nash Conservatory, an enchanting 19th-century glasshouse. With the capacity for a civil ceremony of up to 200 guests and floor-to-ceiling windows on three sides, this stunning glasshouse provides an abundance of natural daylight, filling the space with a warm glow all year round.
For more information, visit:
https://www.kew.org/venue-hire
Searcys at the Gherkin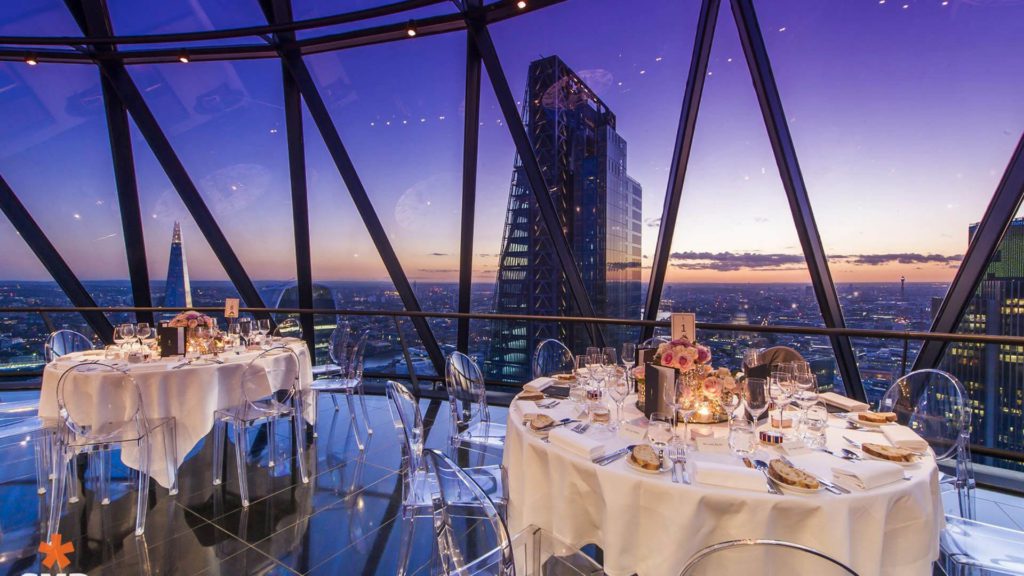 30 St Mary Axe, London EC3A 8BF
As the sun sets, London lights up around you, and celebrations get a full swing. Start your lifelong journey together among spectacular views of London at this icon of modern architecture. Weddings at The Gherkin can be as individual, distinctive and unique as you wish. This exclusive event spaces on levels 39 and 40 are licensed for civil ceremonies for up to 130 guests. Host an intimate seated dinner or a glittering cocktail reception for 260 guests.
For more information, visit:
https://searcysatthegherkin.co.uk/special-occasions/weddings/
Wilton's Music Hall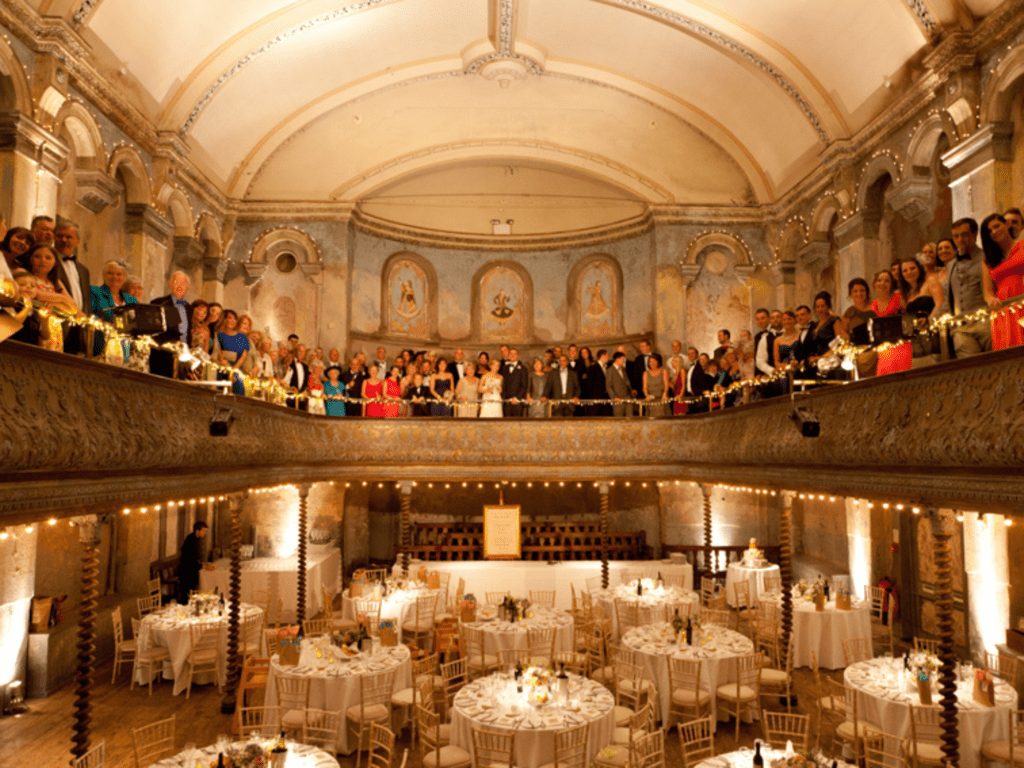 1 Graces Alley, London E1 8JB
This extraordinary theatre and music hall is the oldest Grand Music Hall in the world. The Grade II* listed building is home to over 300 performances and over 80 productions yearly. Wilton's has a unique spirit that has captured the imagination of generations of artists for over 160 years. It makes the perfect place for your ceremony, wedding breakfast and dance floor. Hire includes the whole of this beautiful building – it's an exclusive opportunity with only a select number of dates available each year.
For more information, visit
Cutty Sark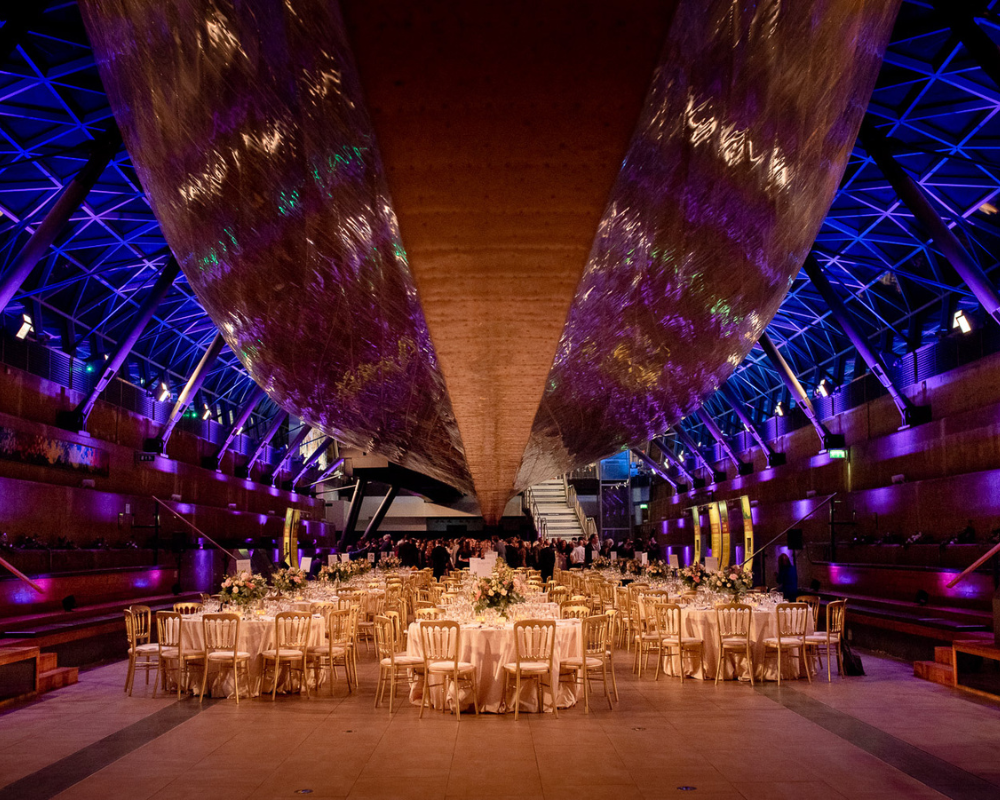 King William Walk, London SE10 9HT
Say your vows and celebrate with family and friends onboard one of the world's most famous and beautiful ships, the Cutty Sark. Permanently suspended in the Maritime Greenwich UNESCO World Heritage Site against the backdrop of the River Thames, this one-time fastest ship is a breathtaking and unique wedding venue in Greenwich. There are four spaces to choose from to host your wedding, with two rooms licensed for civil ceremonies. On the Weather Deck, the ship's three famous towering masts and overhead rigging create a beautiful and historically authentic area to enjoy drinks and views across London. The Master's Saloon and 'Tween Deck are spaces full of original features that are perfect for smaller weddings.
For more information, visit
https://www.venuecrew.com/uk/venues/cutty-sark/wedding/
Battersea Arts Centre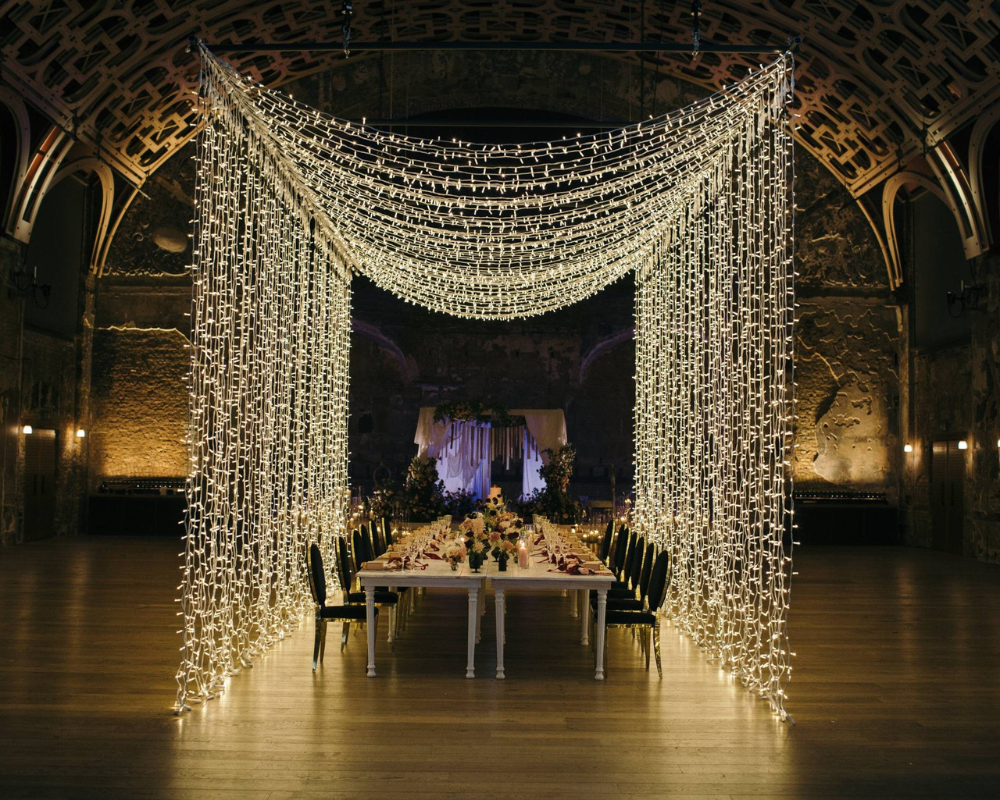 Lavender Hill, London SW11 5TN
Filled with history and creative flair, Battersea Arts Centre has an array of beautiful spaces within the Victorian Town Hall building. Couples can choose between the RIBA Building of the Year award-winning Grand Hall, with its private entrance and a spectacular stained-glass domed hall, or the historic Council Chamber, accessed via an opulent marble staircase. The team is on hand to help manage your big day from start to finish, and their in-house caterers pride themselves on creating lovingly prepared menus to fit the vision and feel of your special day.
For more information, visit:
https://bac.org.uk/venue-hire/weddings/
The Natural History Museum

Cromwell Rd, South Kensington, London SW7 5BD
The Natural History Museum's spaces offer a unique setting for romantic weddings and exclusive private parties. As one of London's most iconic venues, they have a grant of approval to hold civil marriages and civil partnerships in twelve of their galleries. The spaces can be used for ceremonies, reception-only celebrations or both. Hintze Hall is the largest venue, which can seat an impressive 450 guests for a ceremony and wedding breakfast. Its beautiful Victorian architecture and soaring arches provide the perfect setting to dance the evening away. For a more intimate celebration, mingle with your guests in the beautiful Images of Nature Gallery or enjoy the contemporary Darwin Centre, ideal for a drinks reception. 
For more information, visit:
https://www.nhm.ac.uk/business-services/venue-hire/weddings-private-events.html
Kachette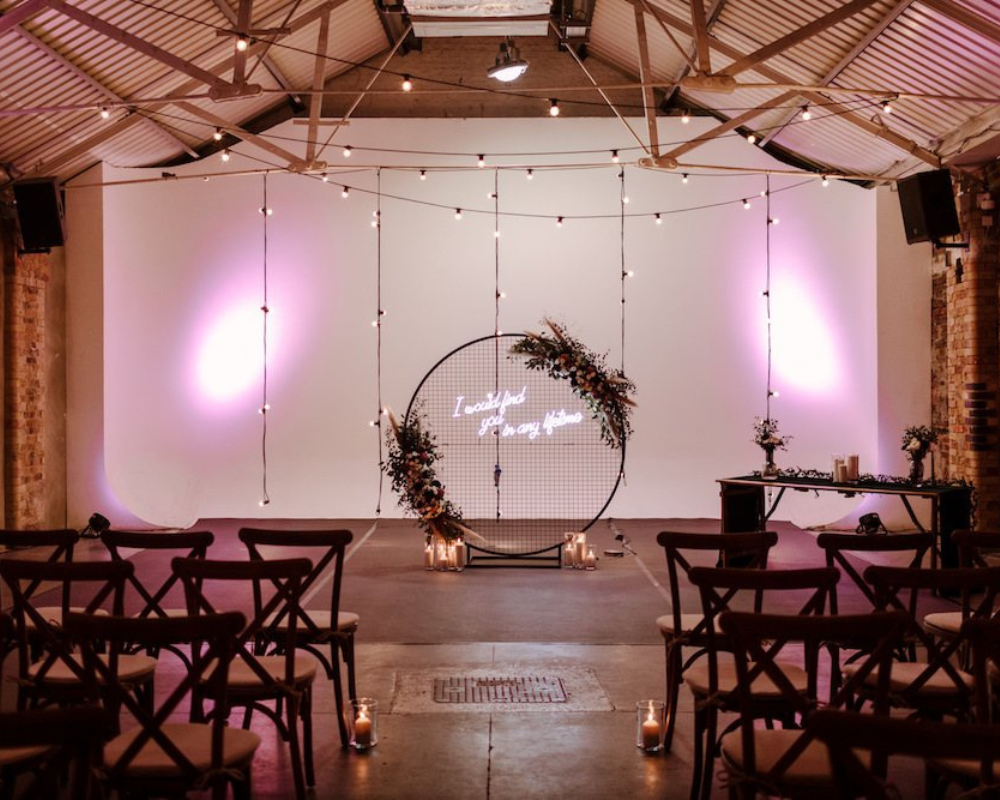 347 Old St, London EC1V 9LP
Kachette is a popular event venue located on Old Street in East London's street art district, Shoreditch. The railway arch venue was once home to the original ticket hall of Shoreditch Railway Station, which operated from 1865 to 1940. Shoreditch has been an entertainment quarter since the 16th century. The district is now a hotspot for bars, pubs, clubs, restaurants, independent shops and pop-ups. Kachette is near Old Street station and the popular East London tourist destinations Boxpark and Brick Lane.
Kachette consists of two beautifully restored railway arch rooms with exposed Victorian-era brickwork, open rigging, a stunning black gated entrance, an arched door and its trademark train station clock inside the venue foyer.
For more information, visit:
Shoreditch Studios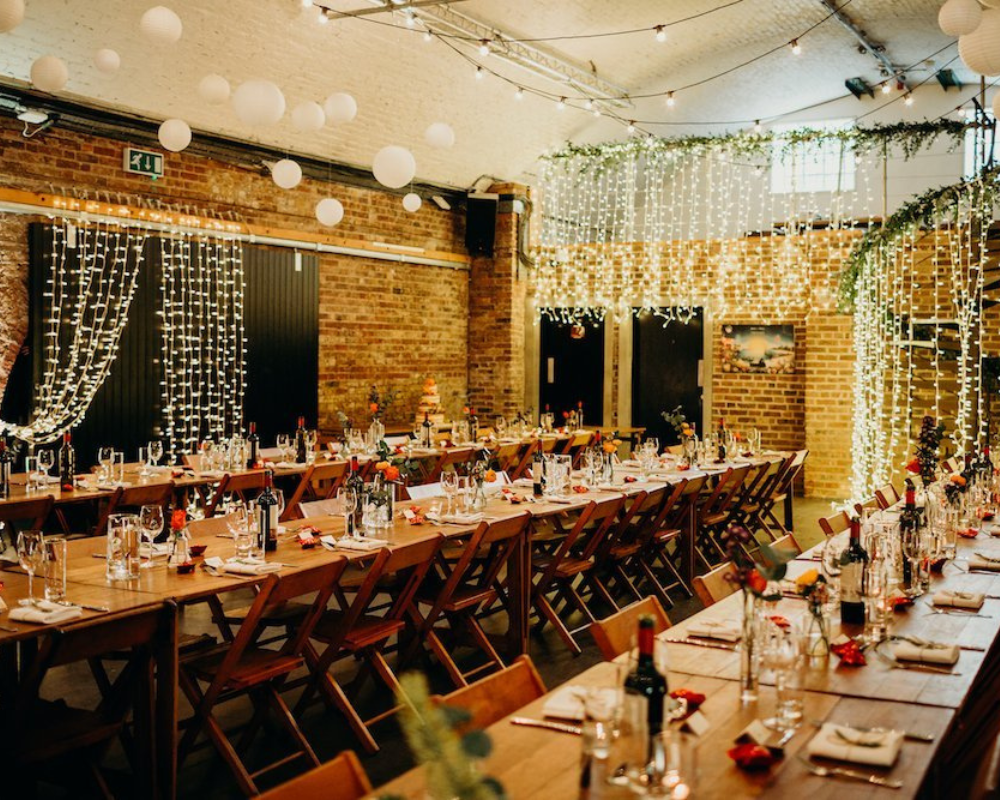 37 Bateman's Row, London EC2A 3HH
Shoreditch Studios is a popular East London photography studio, corporate and private event venue and wedding venue conveniently located in the heart of the Shoreditch Triangle. Less than a five-minute walk from Shoreditch High Street and Old Street stations or a ten-minute walk from Liverpool Street station. Shoreditch Studios comprises two interlocked railway arch studios with over 3,500 sq ft of warehouse event space. Venue features include exposed Victorian brickwork, contemporary white infinity coves, high ceilings, industrial lighting truss, PAs in both studios, green rooms, air conditioning, a mezzanine lounge, a spacious courtyard, and outdoor courtyard space for guests and loading.
For more information, visit:
https://shoreditch.com/shoreditchstudios
The Underglobe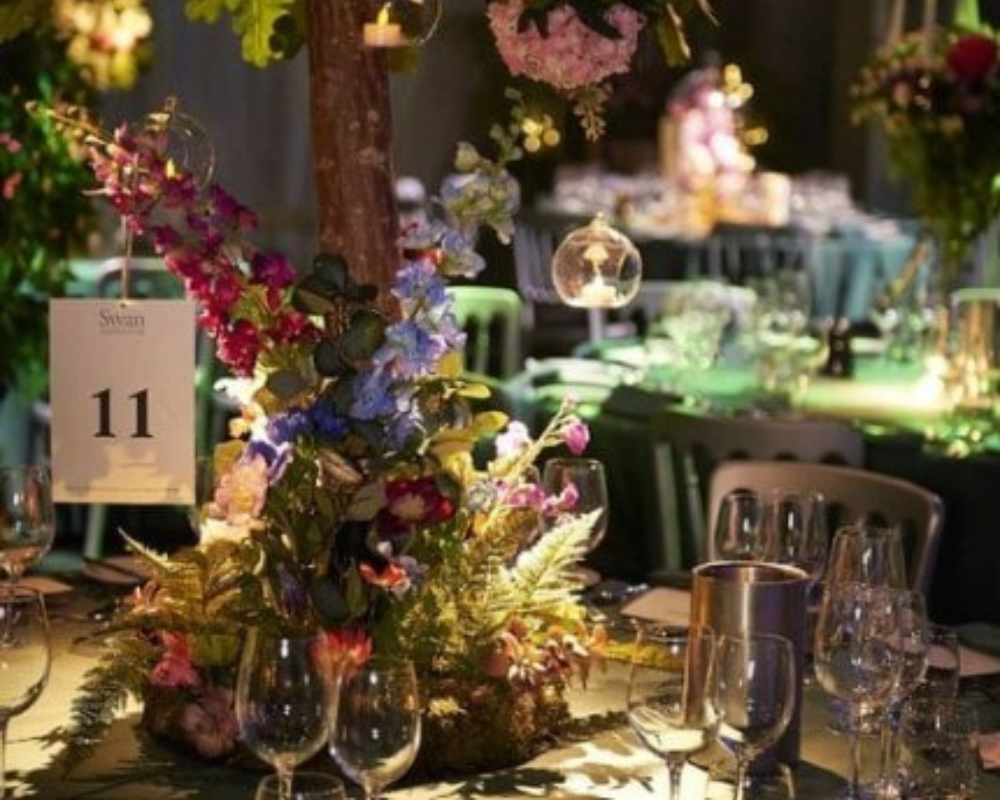 21 New Globe Walk, London SE1 9DT
The Underglobe is a spectacular evening events space located at the iconic cultural landmark Shakespeare's Globe on the banks of the Thames. This award-winning corporate events venue features a prestigious location and a private riverside entrance and can host events for 80 to 425 guests. With an experienced team available to deliver your perfect event, this atmospheric space is the ultimate choice for awards dinners, receptions and evening high-tech conferences. A contribution of your spend supports Shakespeare's Globe – a world-renowned performing arts venue, cultural attraction and education charity.
For more information, visit:
https://www.shakespearesglobe.com/venue-hire/
Crypt on the Green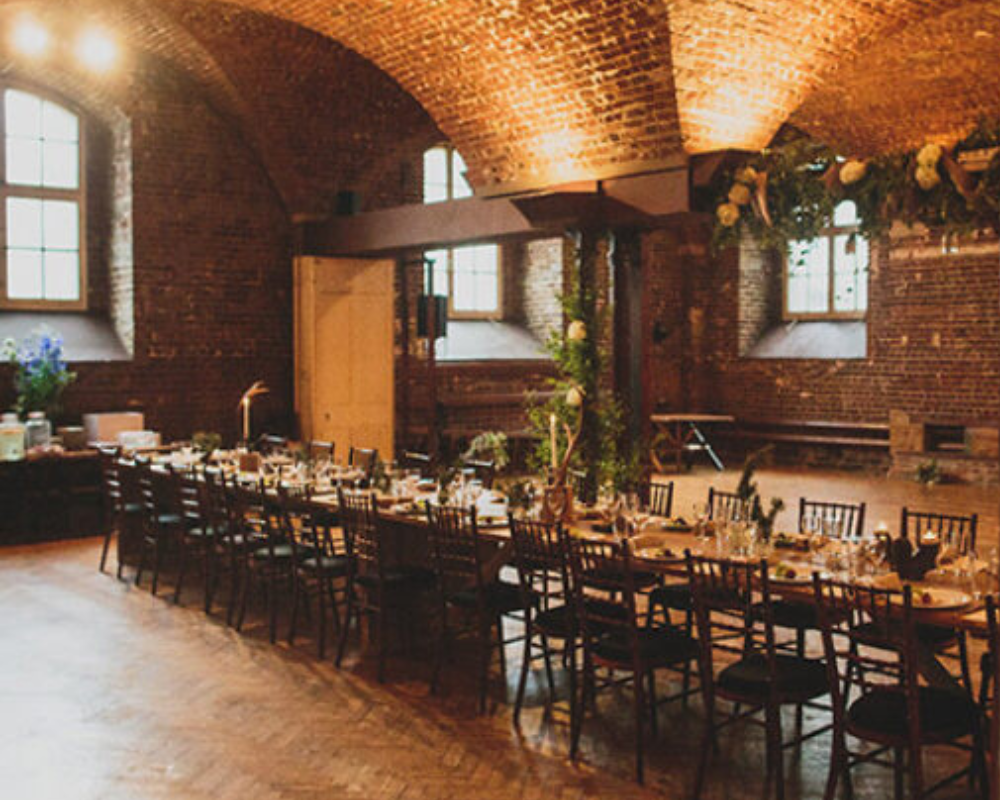 St. James's Church, Crypt on the Green, Clerkenwell Close, London EC1R 0EA
This historic venue has a vaulted brick ceiling, natural light and a parquet floor, providing a versatile and welcoming space to suit a range of events. The Crypt on the Green is a stylish and romantic wedding venue close to St. Paul's Cathedral with a beautiful Georgian church and a gorgeous historic crypt. A perfect historic centrally-based London venue for weddings. Housed in an 18th Century church, Crypt on the Green offers a beautiful venue for your wedding day and a lovely space for your reception.
For more information, visit:
https://cryptonthegreen.co.uk/
The Wallace Collection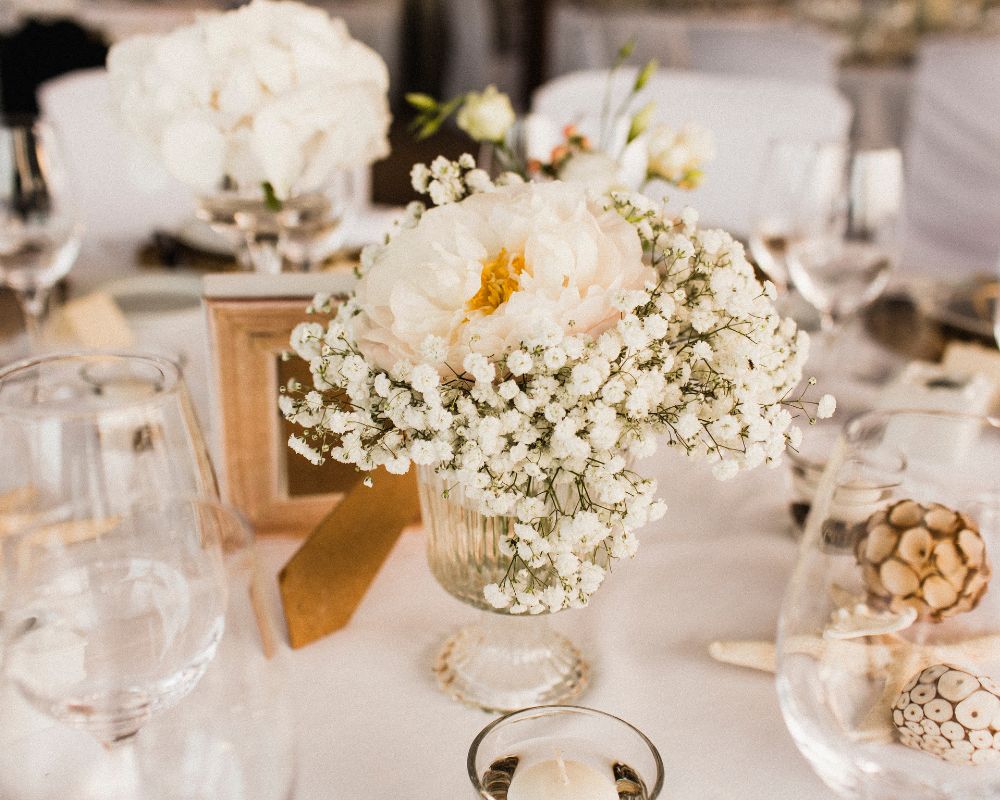 Hertford House, Manchester Square, London W1U 3BN
Situated off London's busy Oxford Street, Hertford House, home to the Wallace Collection, is a spectacular setting for events. The Wallace Collection offers a range of versatile galleries and spaces for celebrations and special events. From intimate dinners to large receptions, the Events Department delivers a tailored service to ensure the highest standards are upheld. A Wallace Collection Wedding Celebration grants you a taste of old-world glamour in the heart of London, allowing you to unleash your creative flair and transform the house's former sculpture garden into a memorable wedding breakfast. Hertford House is yours for the evening.
For more information, visit:
https://www.wallacecollection.org/venue-hire/
Conclusion
As you can see, there are plenty of awesome wedding venues in London. We have barely scratched the surface. If you have had an awesome wedding in London, feel free to comment.