DIY Wedding Venue Decor Ideas: Personalise Your Space
Your wedding day reflects your unique love story; every detail should match your personality and style. DIY wedding venue decor allows you to infuse your special day with personal touches and creativity. Whether you're a craft enthusiast or simply looking to add a personal touch to your celebration, here are some inspiring ideas to help you personalise your wedding venue.
Rustic Charm with Mason Jars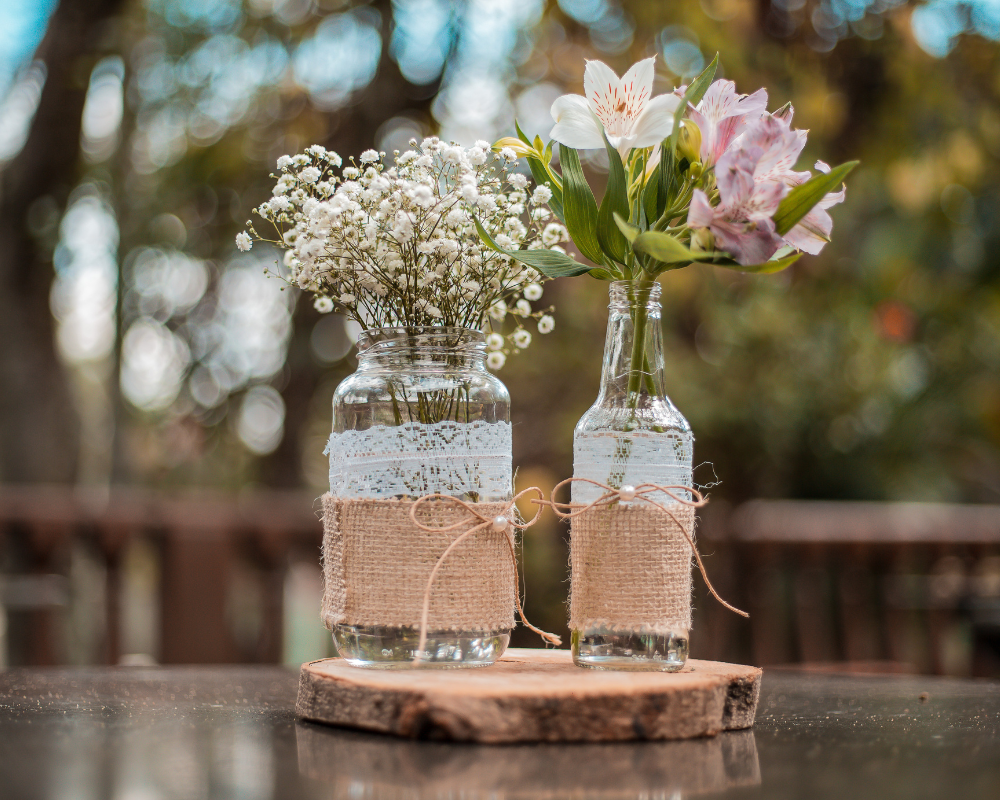 One of the most popular trends in DIY wedding decor is using mason jars to add a rustic charm to your venue. These versatile and affordable glass containers can be transformed into beautiful centrepieces, hanging lanterns, or flower vases. Get creative and personalise your space by painting the mason jars in your wedding colours or adding lace and ribbon accents.
Photo Gallery Wall
Rather than displaying generic paintings or artwork, create a photo montage that tells the story of you and your partner's journey together. You can include childhood pictures, memorable trips, and special moments sentimental to both. This will add a personal touch to your wedding venue and serve as a conversation starter for guests as they admire the beautiful memories displayed on the wall.
Incorporating a photo gallery wall in your wedding venue decor showcases your relationship and the bonds shared with friends and family. Consider reaching out to loved ones in advance and ask them to provide pictures of their favourite moments with you and your partner. You can surprise them by including those cherished memories on the gallery wall. This thoughtful gesture will make your guests feel included and create an atmosphere of love, connection, and celebration throughout the venue.
By opting for a photo gallery wall as part of your DIY wedding decor, you are not just creating an aesthetically pleasing backdrop; you are infusing every corner of the venue with memories and emotions that represent who you are as individuals and as a couple. It adds an intimate touch to the ambience while allowing everyone present to share those precious moments with you on your special day.
Hand-Painted Signs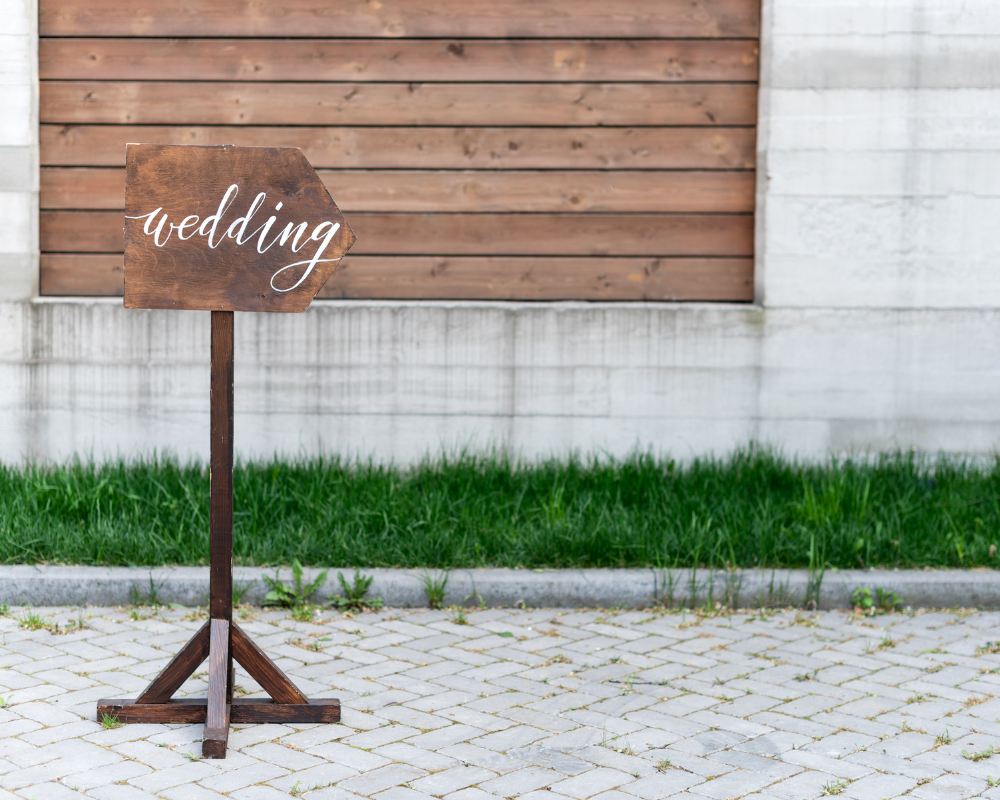 One DIY wedding venue decor idea that will add a touch of charm and personalisation to your space is hand-painted signs. Instead of traditional signage, take it upon yourself (or enlist the help of a talented friend) to create unique and eye-catching signs for various areas of your venue. From rustic wooden signs directing guests to different parts of the venue or highlighting essential locations like the bar or photo booth to whimsical hand-painted menu boards showcasing your delicious food and drink options, these personalised signs will not only serve a practical purpose but also become beautiful focal points in their own right.
When it comes to hand-painted signs, the possibilities are endless. You can experiment with different fonts, colours, and styles that reflect your personality as a couple. Consider incorporating elements from nature, such as floral motifs or adding playful touches like watercolour details for an artistic flair. Not only will you save money by creating these signs yourself, but they will also leave a lasting impression on your guests as they navigate your uniquely personalised wedding space. So, let your creativity run wild and have fun bringing out your inner artist while adding an extra special touch to your big day!
Personalised Table Runners
Gone are the days of plain white linen; now, it's all about adding your personal touch. Consider using table runners featuring your initials or monogram or a design that reflects your wedding theme or colour scheme. Not only will this add a personalised touch to your tables, but it will also make for stunning photo opportunities.
DIY Flower Arrangements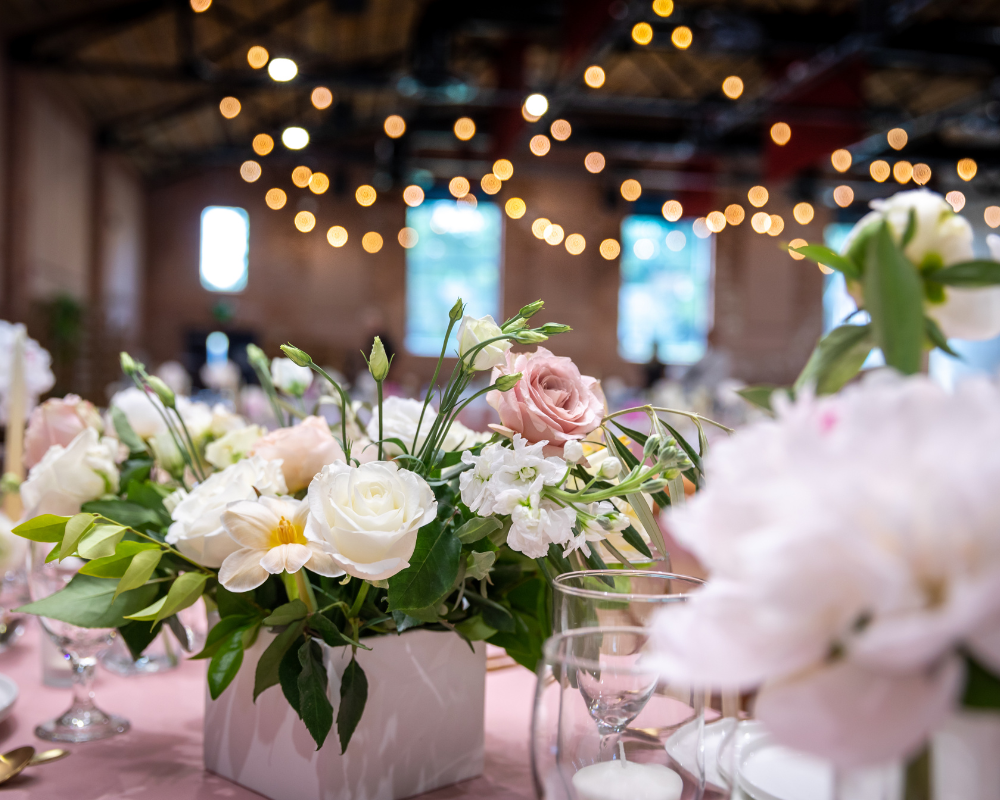 One of the most beautiful ways to personalise your wedding venue is by incorporating DIY flower arrangements. Not only does it add a touch of elegance, but it also allows you to save money by doing it yourself. Consider using flowers special to you and your partner, such as roses from your grandmother's garden or sunflowers from a memorable trip together. Arrange these flowers in mason jars or vintage teapots for a rustic touch, or create hanging floral installations using wire and fishing lines for a whimsical look.
Customised Place Settings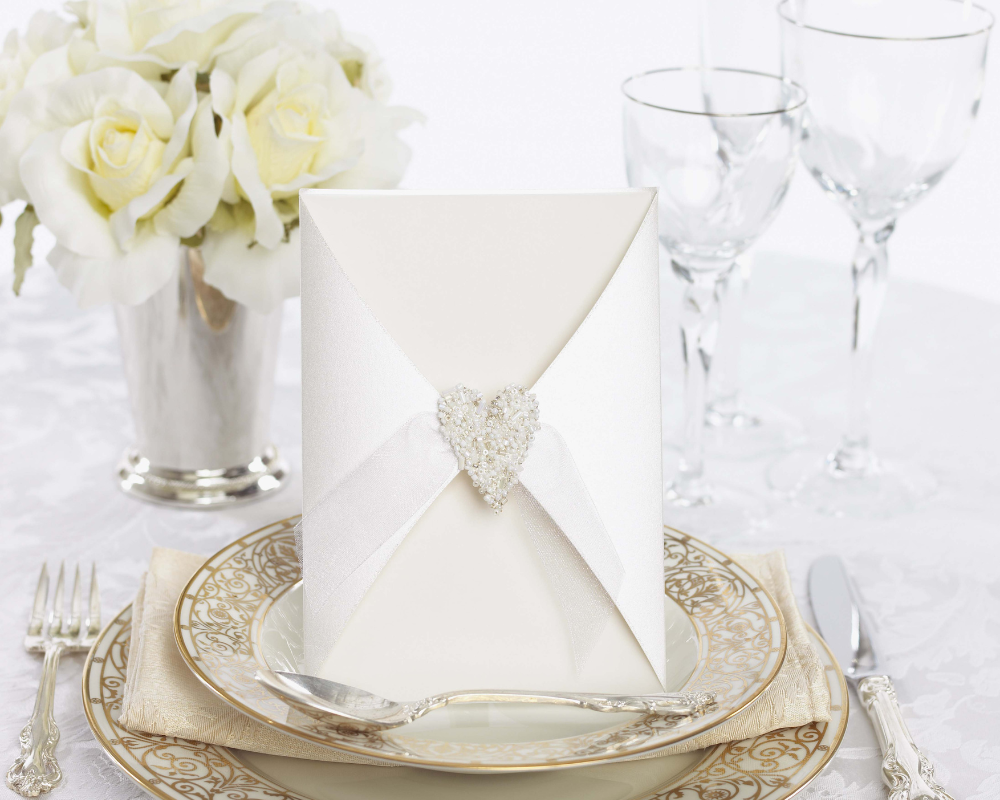 Instead of generic table settings, consider adding a unique touch that reflects your style and personality. For example, you can handwrite the names of each guest on beautiful pieces of cardstock or create personalised calligraphy place cards. Another idea is to use small photo frames with pictures of each guest as their place settings, creating a personalised and sentimental element to your wedding décor.
Memory Table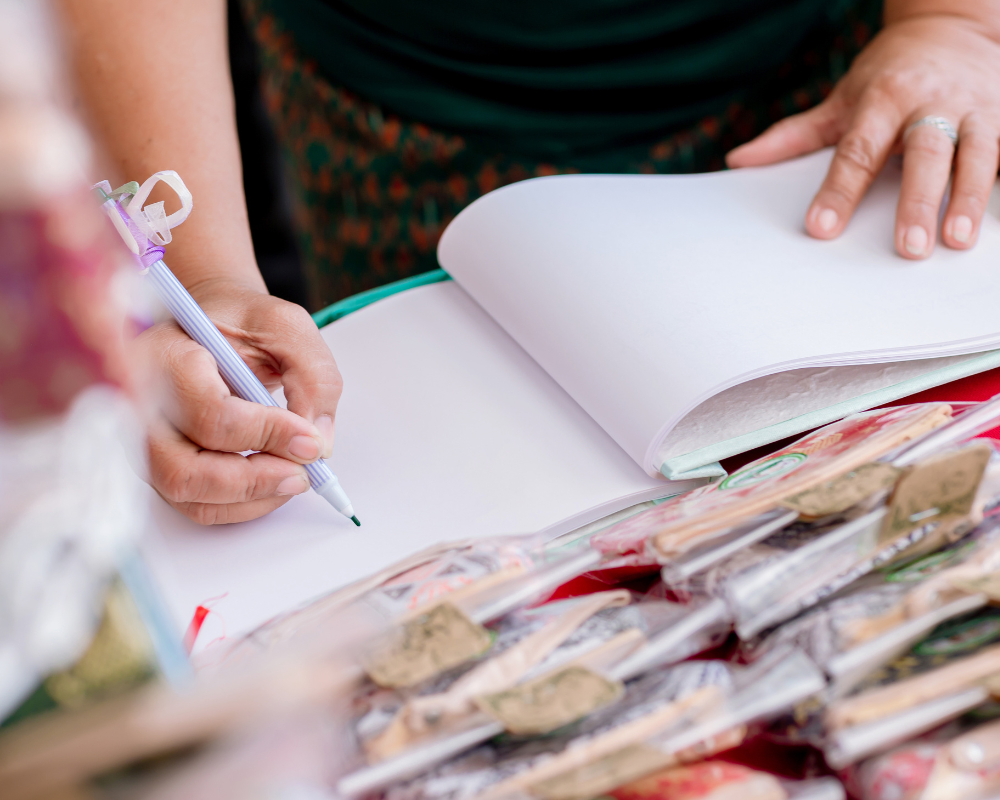 One unique and sentimental DIY decoration idea for your wedding venue is a memory table. This is a beautiful way to honour loved ones who may no longer be with you on your special day. You can create a dedicated space with photographs, mementoes, and candles to remember those who have passed away. Not only does it add a personal touch to your wedding decor, but it also serves as a heartfelt tribute that will resonate with your guests.
In addition to being visually appealing, the memory table can become a conversation piece among your guests. It invites them to reflect on their own experiences with loss and cherish the memories they have made with their loved ones. To make this decor idea even more intimate, you can include handwritten notes or small tokens representing each person being honoured. This allows guests to feel connected and included in this display of love and remembrance.
By incorporating a memory table into your wedding venue decor, you are personalising your space and creating an emotional focal point that celebrates the lives of those who have shaped yours. It adds depth and meaning to an already momentous occasion and reminds everyone of the importance of cherishing our loved ones while we have them around us.
DIY Photo Booth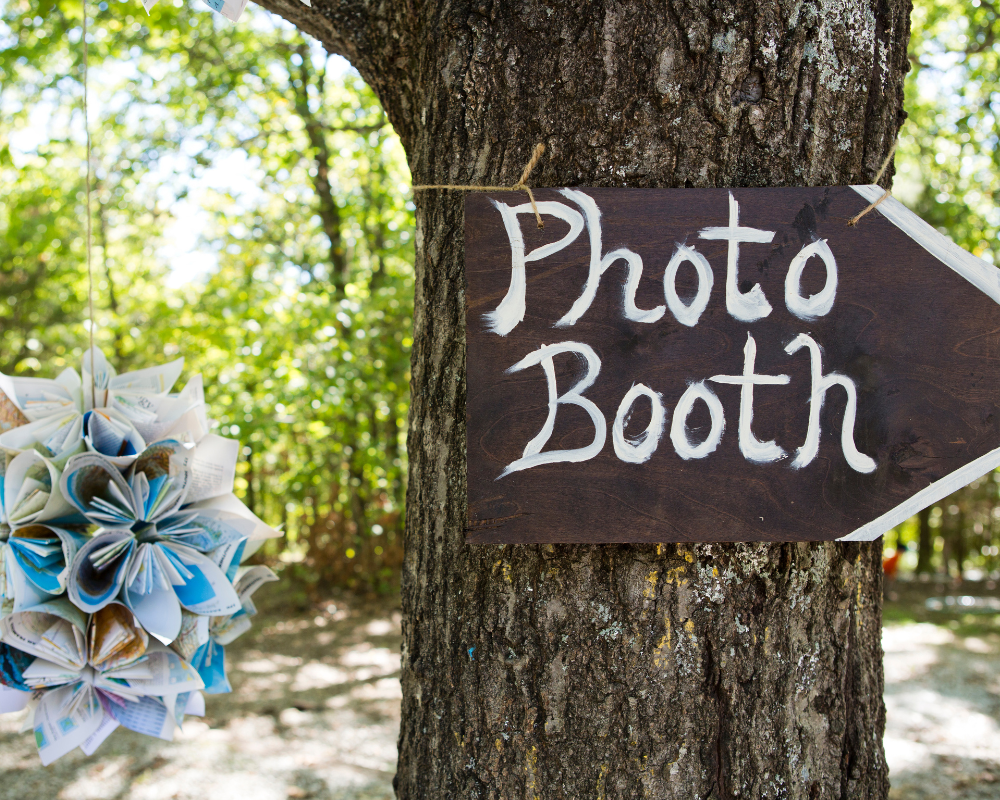 One unique and personalised touch you can add to your wedding venue is a DIY photo booth. Not only will it provide endless entertainment for your guests, but it will also allow them to capture candid moments throughout the day. To create your photo booth, set up a backdrop using fabric or paper in colours that match your wedding theme. Add some props like hats, glasses, and signs for extra fun. Set up a camera or even use a smartphone with a tripod to allow guests to take their photos.
String Lights and Lanterns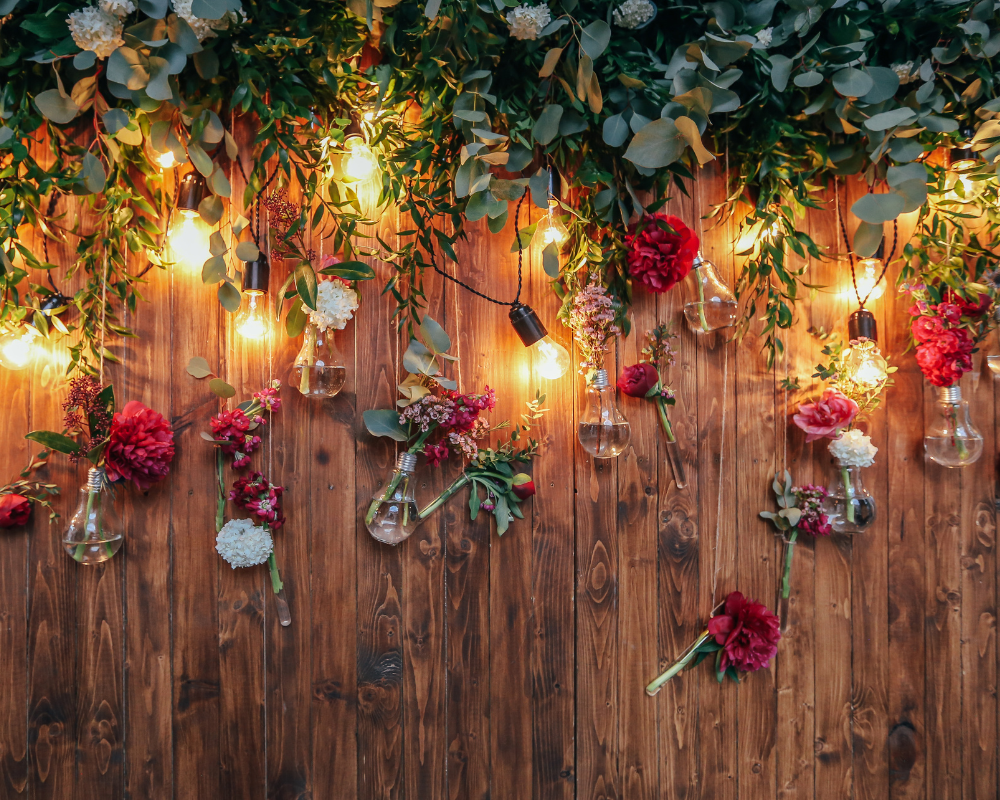 One popular DIY wedding venue decor trend is using string lights and lanterns to create a magical ambience. String lights can be hung along the ceiling, wrapped around beams or pillars, or draped elegantly from tree branches to add a warm and romantic glow to your space. They come in various shapes and sizes, including fairy lights, globe lights, and vintage-style Edison bulbs, allowing you to choose the perfect style for your wedding theme. Lanterns are another versatile option that can be hung or placed on tables to provide soft illumination. Consider using different colours or mixing lantern sizes for an eclectic touch.
In addition to providing ambient lighting, string and lanterns can be striking focal points. For example, you could create an enchanting canopy by hanging multiple strings of lights at varying heights over the dance floor. Alternatively, you could combine several large lanterns as stunning centrepieces for tables or use them as aisle markers during the ceremony. To further personalise your space, consider adding delicate floral arrangements or greenery intertwined with the lights or incorporating other decorative accents that match your wedding theme, such as beach-inspired shells or bohemian dreamcatchers.
Personalised Favours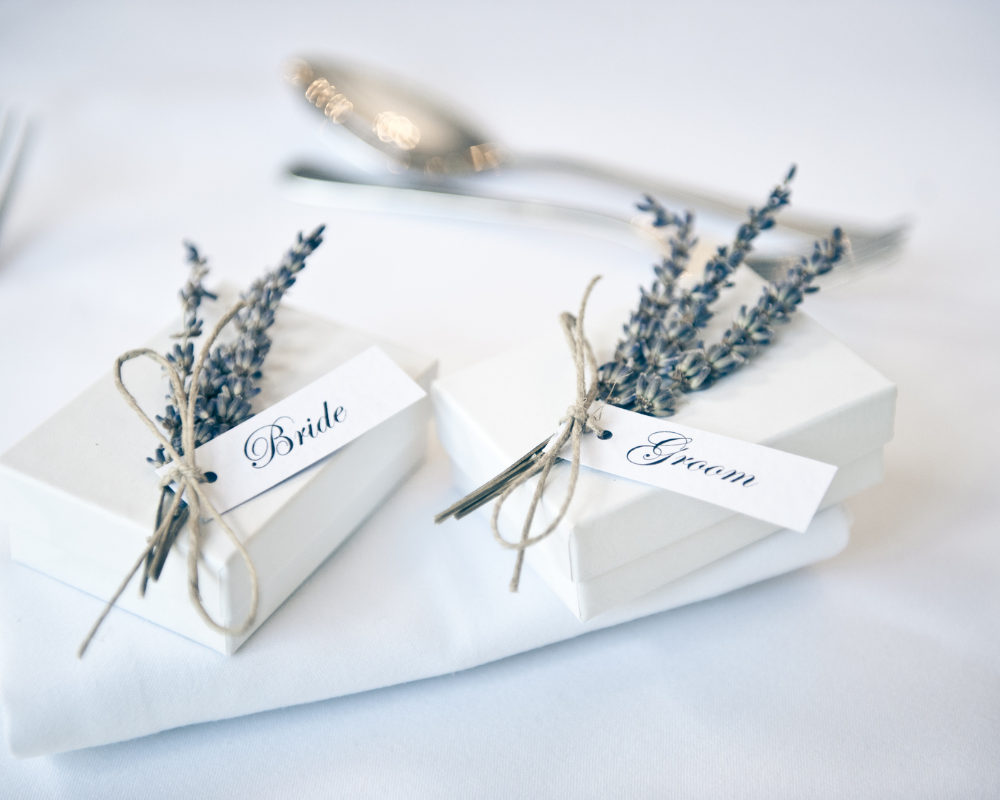 Personalising your wedding venue decor can add a touch of uniqueness and make the space truly yours. One creative idea to consider is incorporating personalised favours into your decor scheme. Instead of just putting them at the tables or on a separate favour table, try scattering them around the venue, such as hanging small bottles filled with messages from tree branches or placing mini buckets filled with goodies near entranceways. This adds an element of surprise for your guests and creates an interactive experience as they discover these personalised treats throughout the event.
Conclusion
In conclusion, DIY wedding venue décor ideas offer an excellent opportunity for couples to personalise their space and create a unique and memorable atmosphere for their special day. From handmade centrepieces and custom signage to repurposed furniture and creative lighting, there are countless ways to add a personal touch to your wedding venue. Not only does DIY décor allow you to save money, but it also allows you to showcase your creativity and style. So, whether you're going for a rustic, bohemian, or modern theme, don't be afraid to get crafty and make your wedding venue truly reflect who you are as a couple. With these DIY ideas, your wedding will undoubtedly be a one-of-a-kind celebration that leaves a lasting impression on you and your guests.